Garage Door Openers
Back To Our Services
Garage door openers are responsible for ensuring convenience particularly when driving in and out of your garage. More than just the convenience that they provide, openers also provide safety and security for you and your family. Openers manufactured after 1993 are equipped with safety features like automatic reverse features wherein the door automatically reverses if it bumps into something as it closes. This prevents anyone or anything from getting trapped under the door.
The Most Versatile Garage Opener Technicians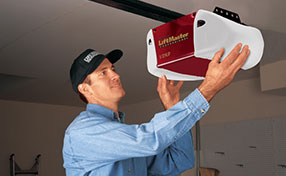 As professional technicians, the job of staff at Garage Door Repair Brooklyn Center is not confined to simple garage door repair services. We also specialize in servicing all types of openers from Chamberlain to Amarr. These first class services include opener installation, maintenance, repair, and replacement. Rest assured that the quality of the service will be nothing short of excellent and service technicians are well trained and equipped with the best tools in the industry. This means your opener will be taken care of. No matter what servicing is required, we definitely provide them for you.
Likewise, we provide professional services including conducting regular maintenance routine such as thorough visual inspection of your door as well as safety feature tests. Regular door balance test are also performed. This is important to avoid having the door place too much pressure on one component but not on the others. We can also do a reverse mechanism test. This test determines if the reverse mechanism, one of the most important safety features of the door, is working properly. Force setting test is another test offered clients. Conducting regular maintenance on your door as well as testing thee opener ensures the door and opener are in pristine condition. It can also save your life and that of your family.
Garage Door Repair Brooklyn Center is dedicated to providing nothing but the best service for clients. Our earnest team excels in their craft and makes a point of conducting their business in a very positive and polite manner. Among the core values are courtesy and professionalism. Expect technicians to be prompt in handling time as well as courteous and friendly in their dealings with you.
The issues you have with your door and its opener should never be put off.
Call us now and let us know how we can be of service!